Privitera celebrates its 30th birthday at Expo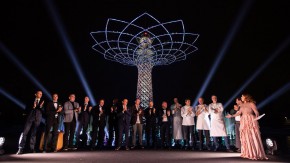 Nitrato d'Argento had the honor to assist and document the celebrations of Privitera's 30th birthday, which had the opportunity to present to its audience La Fenice, a revolutionary maxi greenhouse in iron and compact polycarbonate.
The Tree of Life dominates behind the structure. A big night, a big event, the tree of life as the background, over 600 people between collaborators and friends, talented cooks and entertainment between music and dances.